MrSpeakers AEON Over-Ear Sealed Headphone
Until September 30th, 2019 get a free Arcam rHead Headphone Amplifier valued at $895 for free

Australian Stock
Australian Warranty
Authorised Reseller
Found it cheaper somewhere else? Request a price match.

Don't risk purchasing a fake
MiniDisc are Authorised Resellers

Not happy?
Return it within
Return it within 21 days for a refund*

In stock
Next day shipping available

Unmatched advice and support
Always happy to help
Did you find this item priced lower than $1,149.01 somewhere else?
Yes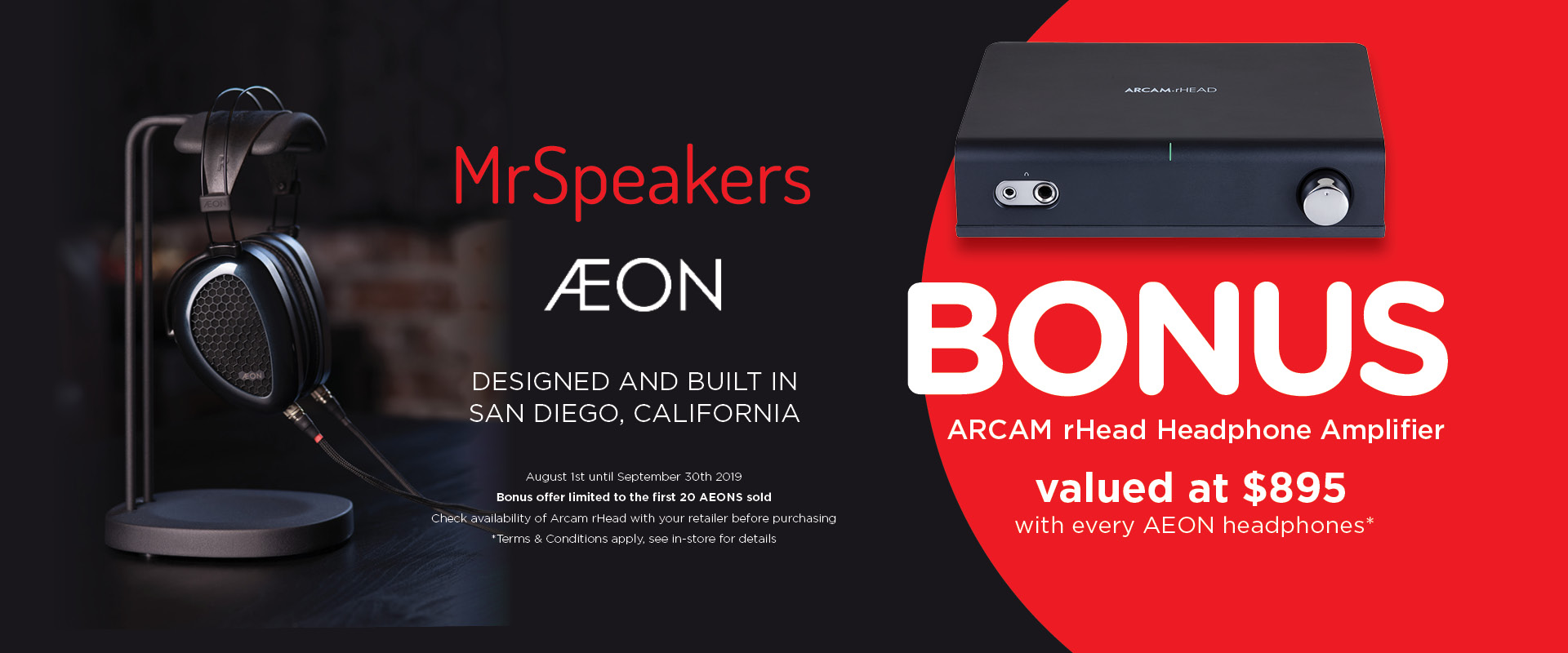 MrSpeakers is a renowned and well-appreciated name among the headphones enthusiasts. This US based headphone company has been delivering economical and superior quality headphones from time to time.
The Ether and Ether Flow is their best work to date and has won more than 20 awards for outstanding performance and unique design. After discontinuing the Alpha and Mad Dog headphones, they assured their users to deliver another masterpiece in the form of a superior quality and budget headphone. Now, they are back with their promise.
Their recent launch "Aeon" is another finest product delivered by them. It is an affordable planar magnetic headphone based on the technologies of their Flagship model, the Ether Flow. Though, this headphone is closed back headphone and comes with a completely new and exciting design.
No Compromise on Sound, Comfort, and Affordability
This affordable and outstanding headphone comes with dual entry cables featuring their DUM technology. It is designed and built directly in California and assures best-in-class quality to the listeners. Like the Ether, it is also hinge-free and has a full leather headband. It has an efficiency of 97dB/mW and weighs about 340 grammes. In less price point, the Aeon headphone offers the same performance as the Ether headphones.
All new planar magenetic driver with V-Planar and Trueflow technologies
NiTinol "memory metal" headband with hing-free design
Dyed-through leather headband
New DUMMER 1/4" and 3.5mm dual-tip fabric covered headphone cable